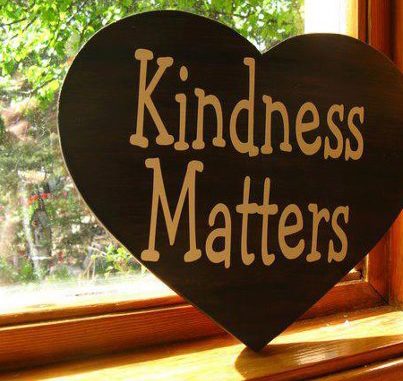 Extending kindness to someone, whether it's a loved one or a total stranger, can be a heart-warming and satisfying experience for everyone involved. And, ideally, one act of kindness will lead to a chain reaction of kind gestures.
Adding a little more love and kindness to your life doesn't take a lot of effort. Here are some random acts of kindness that are specific to runners:
1. Check in on a running friend who's training for a big race and see how her training is going.
2. Offer to give directions to that runner in the park who looks lost.
3. Pass out paper towels during a race. Many runners will be grateful to be able to wipe their sweat or blow their nose.
4. Respect fellow runners by following the rules of wherever you're running, such as staying to the correct side of a running path or keeping your dog on a leash if you're running with him.
5. Send a running friend a good luck text or email for their upcoming race.
6. Give out ice pops to runners during a very hot race. (Or hand warmers during a frigid one.) They'll be incredibly grateful!
7. Thank charity runners in a race for raising money and awareness for a good cause.
8. Cheer for random strangers at a race, not just those you know running it. Make funny spectator signs so runners will get a laugh as they pass you.
9. Reach out a running buddy who's injured and upset that she can't run or had to defer a race.
10. Congratulate running friends when they post a status or a photo about their running progress on social media.
11. Get to know new people in your running group. It can be awkward and intimidating to join a running group without knowing anyone. Make newbies feel more comfortable by being friendly and welcoming.
12. Share your running snacks. If you're doing a long run a group, offer some of your Shot Blocks or other running nutrition to them.
13. Thank the volunteers at races. They've been on their feet for a long time, too!
14. Donate your gently-used running clothes and gear. Give them to a local charity or offer them to running friends who you know could use them.
15. Say thank you to a running coach or someone else who gave you running instruction or encouraged you to start running.
16. Congratulate the runners who cross the finish line near you. Let them know that they helped you push to the finish.
17. Offer high-fives to the kids cheering or passing out water during a race you're running.
18. Smile and say hello to other runners or fitness walkers when you pass them. Give them a compliment such as, "Looking good today!"
19. Organize a running shoe collection drive at your gym, office, or at a race.  You can donate the shoes to an organization that collects used running shoes.
20. Send a thank you email to the race director of a race that you really enjoyed. He or she would will truly appreciate the positive feedback.